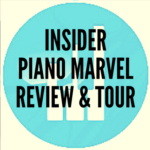 My family has been using Piano Marvel since 2010, so we know the ins and outs of the app.  This piano learning software is a great way to learn how to play the piano, and it's incredible to see how much more my kids practice and progress when they use Piano Marvel. Here's my Piano Marvel Review and Teacher Tools Overview as an insider user/mom/wife/teacher.
Piano Marvel Review
Pros: 
For all levels and all ages (my youngest started when she was 4 years old and my mom is working on Level 5; the library has levels 1-18 with a wide variety of music).

Motivating and addictive (in a good way).

Accelerates piano learning dramatically.

Instant feedback: shows you the notes and rhythm you played correctly (in green) or incorrectly (in red), and gives you a score, as well as trophies and fireworks for high scores.

Lots of video tutorials and performance videos.

An excellent tool for ear training, rhythm practice, and sight reading.

Encourages the best practice methods by breaking a song into sections.

Over 1,000 songs to choose from, including popular songs from Hal Leonard, with new songs being added frequently.

Level 1 is free; low monthly payment for a premium account, which includes all the music in the Piano Marvel Library at no additional cost.

Book Mode for someone with an acoustic, not digital, piano.

Excellent customer service with quick response time.

Email, Facebook and YouTube support to keep you motivated and inform you about updates and events: YouTube competitions, the 5-Day Challenge, Disney Challenge, etc.

You can upload your own music to the Piano Marvel Library, and teachers can create their own organized curriculum within Piano Marvel for students to practice in.

Prepare Mode available on the Windows app, which waits for you to play the correct notes before moving on.

Reports Section that shows a 7-Day Report of minutes and pieces practiced (useful for teachers).

Teachers have complete access to student accounts.

Printed Method books are available for download (included in app) or purchase and include Theory concepts (i.e. naming notes, chords, etc.)

Practice Minutes tracking for the month, along with an option to set a monthly goal and be included in the 300, 400, 500, etc. minute clubs.

Day Streak feature, which shows your current streak (number of days you've practiced in a row), and your longest streak, to keep you motivated.

View your rank in Method and Technique compared with approximately 138,000 other Piano Marvel users – this motivated me to get a 100% completion in both Method and Technique!
Cons: 
Possibly high start-up costs: you need a laptop/iPad, connecting MIDI cable, high-speed internet connection, and MIDI-enabled piano/keyboard to take full advantage of the program (see my recommended equipment).
Does not work on Android devices yet (the Android app is still in development).
When using an acoustic piano, you can only play in Book mode – it won't detect what notes you're playing (Piano Marvel said they're working on this feature).
Perfectionists can get frustrated when the songs become more difficult and they can't get a perfect score right away; they will need to learn to use Prepare Mode, and also the Minced or Chopped options.
The lower-level Method pieces include kid songs like "Mary Had a Little Lamb," and some of the accompaniment is geared towards the younger crowd. Older learners might prefer using Alfred's Group Piano for Adults or Alfred's Basic Adult All-in-One Course (in the Library section), or choosing their own songs based on their level.

There are occasional bugs in the program (but customer support fixes them soon after you report them). 

Doesn't teach much about technique (proper hand position/body posture) or musicianship. Read my practice tips for technique pointers. *NEW* Now Piano Marvel has the Piano Masters Series video lesson add-on to teach you how to play musically, but it's unclear how much technique is taught
Verdict:
Piano Marvel is an amazing program that can dramatically improve your piano and music abilities, as it has with my family. It's best used with the help of a musical parent/mentor or piano teacher, so you can stay motivated and also learn technique and musicianship.
---
You can sign up for a free account with 30 days of premium access. If you choose to get a monthly premium account, receive 20% off the $15.99 monthly fee with my Piano Marvel promo code KATE. I receive a small commission if you sign up using my promo code.
---
Piano Marvel Tour
Piano Marvel is divided into four main sections:
Library

Method

Technique

SASR (Standard Assessment of Sight Reading)
Library

Piano Marvel has over 1,000 library pieces to choose from, including pop, classical, holiday, and hymns; all of the pieces are included in the premium account so you don't have to pay extra for them (although if you want a physical copy of the music, you'll have to buy it from the publisher). They vary in difficulty from Level 1 to Level 18 (the level of a piano performance major).
Many of the pieces also have links to YouTube videos, which is really helpful in deciding if you want to learn that song and also to learn how the song should sound.
Many also have PDF sheet music so you can print out the music and practice without always needing to be connected to the app. Check out this post for my tips on using the Piano Marvel Library.
Some traditional method books have been added to the library, such as Alfred's Premier Piano Course (Levels 1-6) and Alfred's Basic Adult All-in-One Course (Books 1 & 2). You used to have to pay extra for these, but now they're included in the premium subscription. 
Not only that, you can upload your own music to practice, using a program like Finale. Teachers could customize the library to create their own curriculum in Piano Marvel.
Method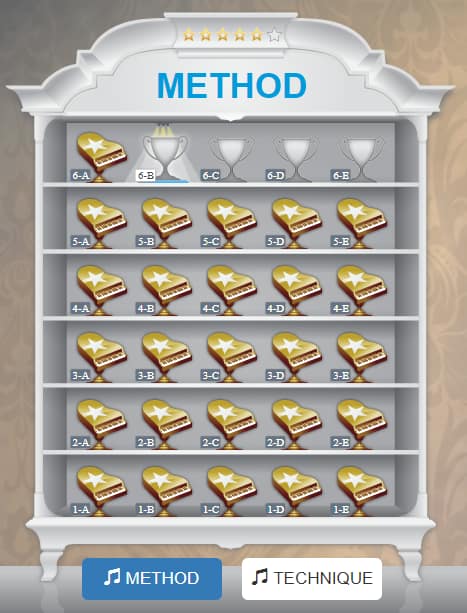 There are six levels, and within each level-> five sublevels -> twenty songs in each sublevel.
PDF Method books are included so you can practice and perform on a regular piano (also includes optional duet parts).  Theory is incorporated into the new PDF Method books, such as writing the names of the notes in some of the songs.
Lesson and performance videos are included to teach you the concepts and songs.
You start out by playing only middle C. This helps you to have a solid foundation of note values and rhythm. The songs have engaging, upbeat accompaniment that makes it exciting to play, even if you're only playing middle C the entire time. Gradually new notes are introduced.
Piano Marvel gives you instant feedback on how accurately you played the notes and rhythm, and you receive a score. You also receive different medals depending on how high your score was.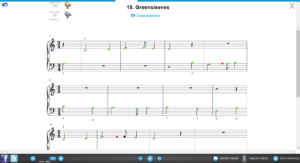 When you get to Level 3, you might notice the songs get a lot harder. This is when you need to move to Minced or Chopped slicing. You will actually learn the song a lot faster this way because that is how the brain learns a new skill best, repeating the skill in little chunks and correcting mistakes right away.
Sometimes the songs seem to jump in difficulty level. If you work at it in Minced or Chopped slicing and are still having trouble, skip the song and go back to it later.
Technique
Technique focuses on ear training and rhythm, which were things my classical/traditional piano background lacked; this is a HUGE benefit of Piano Marvel.
As you move into Level 3, you will start learning scales, and by the time you finish Level 6 you will know the major and minor scales and chords. PDF Technique books are included. The setup is the same as in Method: six levels -> five sublevels -> twenty songs in each sublevel.
SASR (Standard Assessment of Sight Reading)
In the SASR, you will be given music you likely haven't played before (sight reading is the skill of playing a song you haven't played before). You get twenty seconds to look the song over, and then it automatically starts. You receive a score for each song, and your SASR score goes up or down depending on how well you did. After you get below an 80% three times, you're out.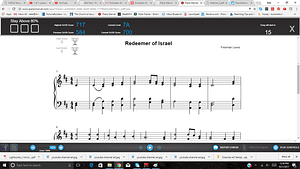 You will receive your final SASR score, and you can see a graph of your previous scores.

This YouTube video will convince you how powerful a tool the SASR can be if you use it frequently. Sight reading is an important skill to have as a pianist, and the SASR makes it easy to practice and improve your sight reading ability.
You can read SASR post for more information and tips about the SASR, and take a look at my progression to the Prodigy Sight Reader Level after taking on the 30-Day SASR Challenge.

---
Overview of Piano Teacher Tools:
 The Perfect App for Private and Classroom Piano Teachers
Instant Feedback
Piano Marvel will show your students which notes and rhythms they played correctly or incorrectly. They don't have to wait a whole week to know if they're playing a song right, and if they've been playing a song incorrectly have to unlearn what they learned!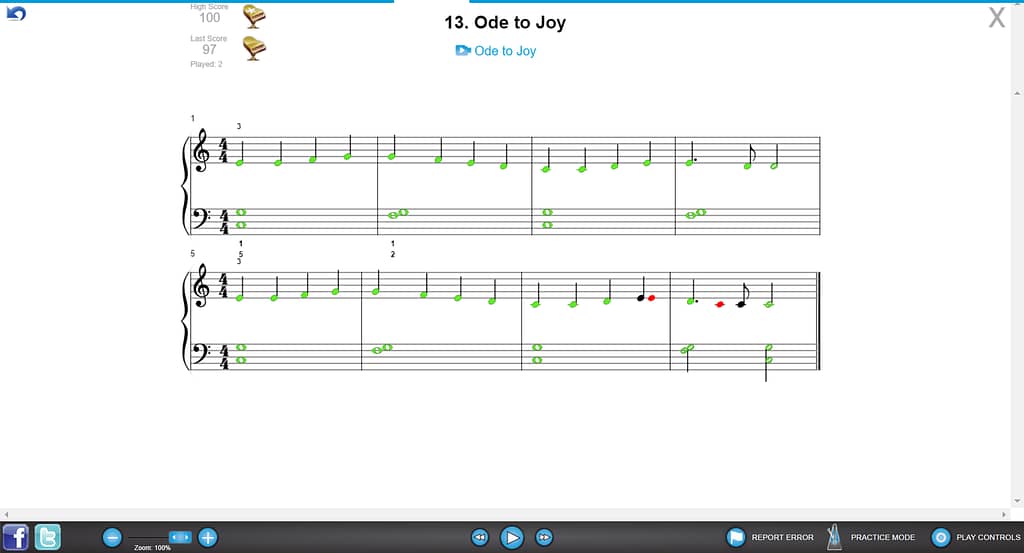 Effective Daily Practice
Your students will learn how to practice effectively by using Minced and Chopped slicing. They can also highlight trouble spots and practice those individually. When you can't be there to help them, Piano Marvel gives them the discipline they need to break the song into pieces instead of practicing the entire song over and over again without making much progress.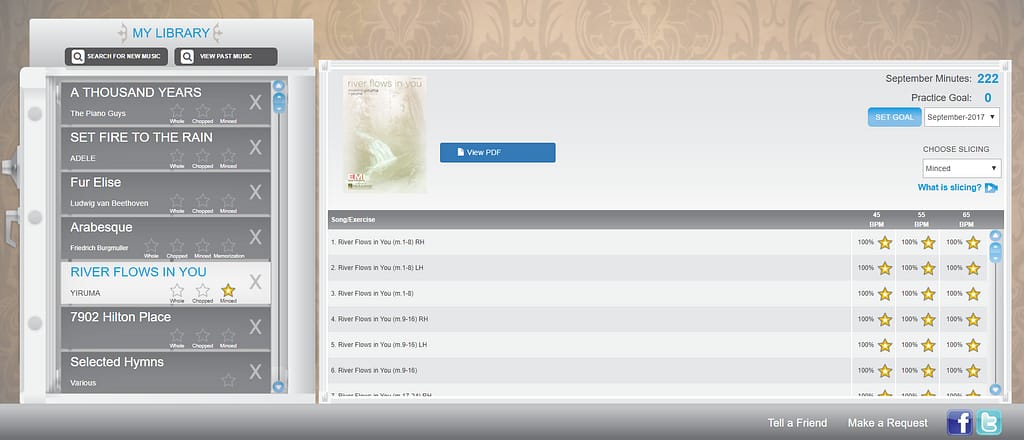 Reports & Access to Student Accounts
You can access weekly reports of what songs your students have practiced, what scores they received, and how many minutes they practiced. Looking at the report before my student's lesson helps me to know what concepts to cover in the lesson and what weekly goals we can set for my student to progress quickly.
Also, as their teacher, you can log in to your students' accounts through your own account! You can add new songs to their library and have them ready for the next lesson.
Use the SASR to Assess Your Students' Ability Level
If you have a new student with some music/piano background, you can have them take the SASR so you will easily know what level they're in and what skills they already have.
Using Virtual Piano
The Virtual Piano feature allows students to practice with headphones connected to the laptop or iPad. No sound is needed from the digital piano, so a classroom of students can practice different songs at the same time.
Book Mode Option for Acoustic Piano Practice
Book Mode allows students with acoustic pianos to practice using Piano Marvel. They will have to self-assess and mark the song "Complete" when they think they can pass it off. You might want them to come into the studio early to pass off their songs and receive scores before their lessons.
Productive Piano Lessons
If you have students pass off their songs in Piano Marvel before their piano lesson, their home practice sessions will be much more productive (plus, they will probably practice a lot more) and they will come to their lesson much better prepared. You can focus on musicality instead of notes and rhythm.
The Perfectionist Student
Some students feel too much pressure about making a mistake and not getting a 100. For these students, Practice Mode could be utilized, and they can aim to get all "green" notes. Then they can play along with the accompaniment in Book Mode to ensure they're playing the correct rhythm. Or, they can just use Book Mode and not get a score.
Low-Techies
Like one of my kids, you might have some students who want to forego the technology and use traditional books or sheet music. Technique and SASR are still important components every student should use, even if they are just using Book Mode or using traditional books for their songs.
Flexible & Adaptable for All Learning Styles
Each person has a different learning style and preference, so it's important to cater to how your student learns best. Piano Marvel is so flexible that you can adapt it to the needs and interests of each student.
Upload Your Own Music
You can create your own "book" in the Piano Marvel Library and add in any existing pieces that are in the library, as well as upload your own music! So if you don't like the Piano Marvel Method and Technique curriculum, take what you do like and add to it. Or make a completely different curriculum using the library songs, or your own songs.
This is also a perfect feature for piano classrooms or group piano lessons. If you already have a curriculum you use but want the ability to see what your students are practicing, what scores they're getting, and how you can help them progress at their level, just add your existing curriculum to Piano Marvel.
Take a peek at this cool feature that I don't think any other piano learning programs have:
---
Piano Marvel Review [Bottom Line]
Piano Marvel is an engaging, motivating way to learn and practice the piano, which is why my family has been using it since 2010. And with the new updates and popular songs that are being added, it keeps getting better. Piano Marvel's great for all ages and levels, for self-motivated learners, private teachers, and classroom teachers. I hope this Piano Marvel review has helped you decide if it's a good fit for you. You can also take a look at my general Piano Marvel info page. Happy piano playing!
---
Wondering what equipment you need to get started?
Follow my 4-Step Guide to Choosing the Right Piano Marvel Equipment.
Or get started quickly with a Piano Marvel equipment package, which is also a great gift idea for a beginner pianist.
Of course, if you just want to try it out using Book Mode, you only need a laptop or iPad.
---
Ideas for Classroom/Group Piano Teachers
Get an inside look at a piano classroom that uses Piano Marvel as its main piano learning tool, and get ideas for how to use Piano Marvel in your own piano classroom or group lessons.
---
To sign up for a free account, click HERE (no credit card information needed). If you choose to get a monthly premium account, get 20% off the $15.99 monthly fee with my Piano Marvel promo code KATE. I receive a small commission if you use my promo code. Happy piano playing!
---
Related Links