The Piano Marvel Library has over 1,000 songs, and they're adding new songs all the time. You can choose by level (1-18) and also by genre.
Because of a deal Piano Marvel made with Hal Leonard, almost all of the songs in the Library are now free with a premium account. Very few you have to pay for. There are many, many popular songs that make learning piano more exciting, like A Thousand Years by The Piano Guys and The Mission Impossible Theme.
I like how you can even add the Alfred books so you get the solid Alfred curriculum with the added motivation to keep practicing and progressing. I'm excited to try it with my daughter, who is now old enough to take piano seriously and get into Piano Marvel! A note: You will have to pay extra for access to the Alfred books. The cost is about the same as the cost of the physical books.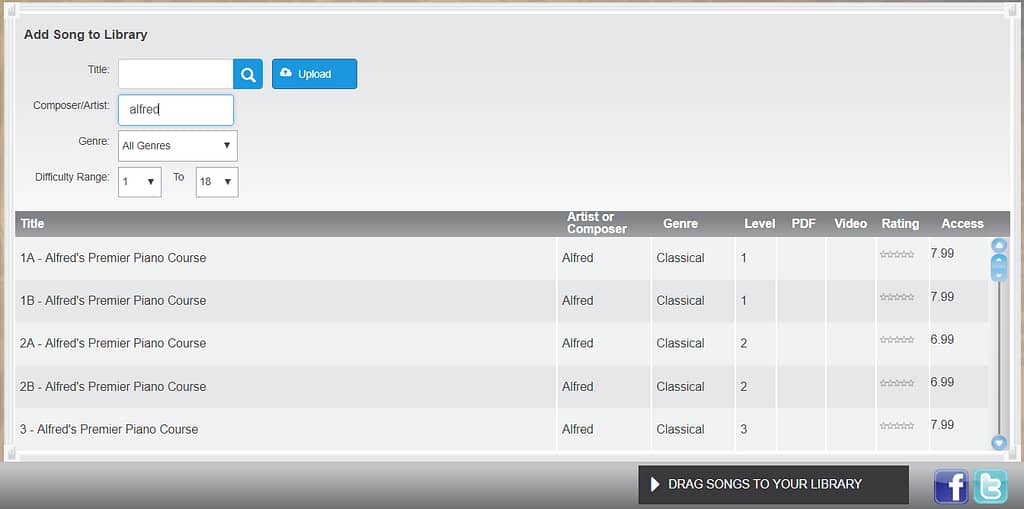 Piano Marvel Genres
Classical
Popular
Holiday
Christian & Gospel (including many hymns from Hymns Made Easy & regular LDS hymnal)
Jazz/Blues
Rock
You can also search by Difficulty, levels 1-18. Many of the songs are well-known pop or classical pieces. No matter how picky you are, you can find songs that you will like and that will keep you motivated in practicing the piano.
Include Piano Marvel Library Music In Your Daily Practice Routine
For a while I was assigning only Method or Technique for the kids to work on.  I didn't realize these are only the basics-it's really the other songs in the Piano Marvel Library that enrich piano practice and keep you excited about playing the piano.   I've also noticed the Method and Technique songs are easier than similarly leveled songs in other method books, like Bastien or Alfred. So you really need to add in some other pieces to provide more of a challenge and to be at the right level of difficulty.  I love how you can choose what song to add in your repertoire – just search by level.  The kids love that they get to choose what to practice, it makes it so much more fun. Always be working on at least one Method piece and one other piece from the Library (after doing a warm up to strengthen your CURVED fingers), and do at least one Technique piece every day. I'll go over a suggested Piano Marvel practice routine in my next post.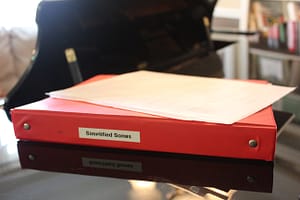 Make a Piano Marvel Music Binder
Don't forget to print out the Piano Marvel Library music if it's available (many of the pieces have a PDF file) so you can also practice and perform on the real piano. I have a binder for these pieces – I just hole punch the pages and stick them in, or use sheet protectors.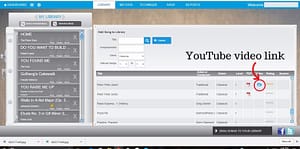 Watch the YouTube Videos For Your Songs
Some of the pieces also have links to YouTube videos that you can watch. That is a great way to get a feel for the song and better understand how it should sound. Playing a song is way more than just playing the correct notes and rhythm.
Play From Your Heart
When playing a piece, think about what mood, feeling, or message of the song is. If there's not an included YouTube video, you might want to just listen to Piano Marvel play it so you can get a feel for the song. Is it energetic and exciting, like in "Irish Jig" (Method 3C)? Serious and stern, like in "Indian Bob" (Library, Level 2)? Even with beginner songs, you can play with feeling. When you play with your whole heart, you become one with the song and the mood you're trying to convey. It is a freeing and joyful feeling. That's what makes playing the piano fun and fulfilling.
Memorize Your Pieces & Perform Them
Once you pass off your piece, consider memorizing it. You never know when you might come across a piano and an opportunity to play on it, and chance are, you won't have your music with you! I also recommend performing your pieces for your family and/or friends at least once a month. In our family, everyone gets a chance to perform a musical number during our weekly family night. The kids LOVE to perform what they've spent so much time working on, and it also puts them in a different mindset of getting a piece to a performance level.
With so many songs to choose from, you can stay motivated to learn the piano even when it gets challenging. So many people tell me they wish they hadn't quit piano. Maybe if they had just gotten a chance to pick and choose exciting songs they were interested in, they would have stuck with it. It will be hard, but you can love the challenge with songs that you are motivated to learn.
---
If you don't have a Piano Marvel account yet, take a peek at the songs in the Piano Marvel Music Library. You can even download the PDF sheet music and watch select video performances of the pieces.
Go to my info page to learn more about Piano Marvel. To sign up for a free account, click here. If you choose to get a monthly premium account, you'll have access to most of the music in the Library. And it's only $12/month with my Piano Marvel promo code KATE. I receive a small commission if you sign up using my promo code. Happy piano playing!