How to Build a Strong Family

Building Blocks for a Strong & United Family
Every successful company has a clear vision of their future. Shouldn't your family too?
Ideally, you should do this activity with your significant other if you have one, and with your kids if they'll cooperate.
Several years ago I became inspired to create a family mission statement with my family, after reading about it in Nicholeen Peck's book, A House United. Many of these ideas came from her book.
Picture your family 25 years into the future. Pretend you're all gathered together for a special holiday. What do you want this gathering to look like? What do you want your family relationships to be like? What feeling to do want there to be?
Obviously, if you're reading this, you want your family to be close. You probably want there to be a feeling of love and acceptance. Some laughing, hugging, maybe some wrestling. Telling childhood stories. Reminiscing about the time Tom dropped a dumbbell on Jonny's head and Jonny had to get stitches. Or about jumping in the ice cold lake on a dare from Dad (that's happened more than once in our family).
Use my Family Vision worksheet to help you create this vision for your family's future. Put this up on your fridge or somewhere prominent to remind everyone of where you want to be headed as a family.
I also included this important reminder, that every challenge your family faces is an opportunity to strengthen your family and shape the future of your family.
Write a Family Mission Statement
It's just as important to create a mission statement for your family. This will help you to figure out how you're going to achieve your family's vision.
If you have a significant other, you should sit down and discuss this together first, then meet with all family members to get everybody's input.
You can use this Family Mission Statement Worksheet to write down your thoughts. It's important that everyone participates in creating the mission statement!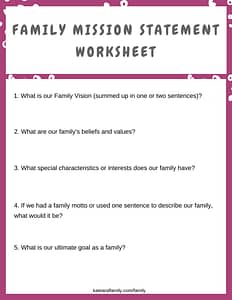 Tips for your Family Mission Statement:
Use your Family Vision to decide what's important to your family.
Include your family's values and beliefs.
Make your mission statement unique to your family. In our family, music is important, so we included that.
Have everyone sign the mission statement.
Display your family mission statement in a nice frame, and in a prominent location.
Memorize your mission statement, and recite it at family gatherings (we try to do this before family prayer each night). Eventually it will become who your family is and give your kids a sense of identity.
For younger kids, you can make up hand signals or actions to make it fun and easier to remember.
For some sample mission statements, click here.
If you're having trouble with everyone getting along well enough to even hold a family meeting, believe me, I've been there! The best thing to do is to be well prepared so the meeting can be short and sweet. If you need help knowing how to hold family meetings, read Chapter 9 of Positive Discipline. Dr. Nelsen gives you the nitty gritty on the importance of family meetings and how to make them a success.
It took our family several weeks to polish our mission statement. But the work was well worth it. We all have our family mission statement memorized, and it's created unity and a sense of purpose.
Here's my family mission statement:
We are sons and daughters of God and followers of Jesus Christ.
We show love, respect, and kindness to all. We put others' needs before our own and always do more than our share. We do our best to keep the commandments, repent, forgive, and serve. We strengthen our character and invite the Spirit through music. We work hard, and we play hard.
We know that if we keep our covenants, we will be united as
BEST FRIENDS FOREVER.
Here are some templates for you to use. You can easily use canva.com to add text and design features, or create your own unique mission statement. I'm sure you can be much more creative than me! 
If you'd like to share your design or your own family mission statement on my site, please feel free to send it to me at kate@kateandfamily.com.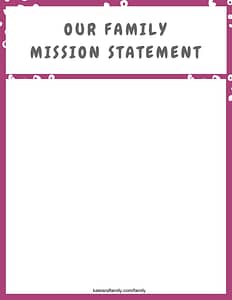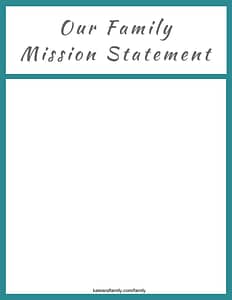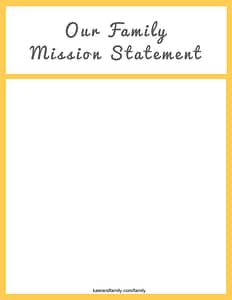 Creating agreements together as a family will help you to have more unity and peace in your home. It's amazing how well it works in getting kids on board with resolving issues such as: sibling fighting, cleaning up, chores, and coming to the dinner table on time.
Don't expect to complete all your Family Agreements in one family meeting. This will be an ongoing process, and it will be edited, added, and deleted constantly. It might take several attempts and several meetings to come up with an agreement that becomes permanent. And that's ok! Remember a huge lesson learned by this process is how to resolve conflicts and come up with solutions collaboratively.
Read Chapter 9 of Positive Discipline for details on holding family meetings and how to come to agreements as a family. 
Here are some important tips about creating Family Agreements:
DON'T include rules that are non-negotiable, like wearing seatbelts or brushing your teeth. I'll cover those in the next little section.
Tackle one issue at a time. Focus on solutions, not punishments. Most issues can be resolved without using external consequences. Here's an example. My husband brought up the issue of finding xbox remotes left out, and not being able to find the TV remote. At first he wanted to have a consequence of the kids getting remotes taken away if they get left out. But then I brought up the idea of getting bins for our end tables so it's easier for everyone to put the remotes away. We all agreed on that, and I think just bringing up the fact that remotes have been left out has helped the kids be better at remembering to put them away.
For those few issues that do require extra motivation through consequences, make sure the consequence is reasonable and unanimously agreed on. These are the issues that I put on our list of Family Agreements.
If you can't all agree, table the issue for the next family meeting. In the meantime, stick with a temporary solution as created by the parents or continue with what you've been doing.
Your Family Agreements will become the "boss." If your kids ever argue about one of the issues, just point them to the agreement that they helped make. But chances are, since they helped make the agreement, they will be pretty good at following it, and they will calmly accept any consequences associated with it (as long as you're consistent). Believe me, this really works!
Before I learned about Positive Discipline (learn more about it in my Parenting section), we were doing a similar process, but it wasn't quite the same. We were big on making lots of rules and lots of consequences, and we voted on the rules instead of requiring them to be unanimous. Let me tell you, we had rules for EVERYTHING. Rules about pillow pets, screen time, whining, tattling, more rules about pillow pets and screen time… We had a lot of power struggles, resentment, and passive aggressiveness going on in our family. After I learned about how to do it correctly, I realized we needed to throw out all our old rules and start from scratch.
Our new agreements have helped create more peace and cooperation in our home. It takes a while to come to these agreements, but it's so worth the effort!
Here is our current list of the agreements we've made as a family: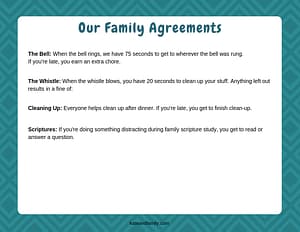 Here are some Family Agreement templates (you can easily add/edit using canva.com):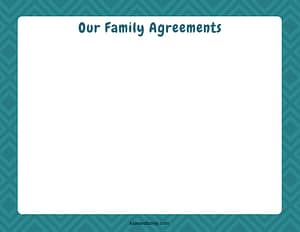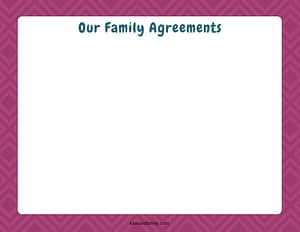 Create Family Safety Guidelines
Like I mentioned before, there are certain things that should not be negotiated. These things might be different for each family. I don't recommend writing an extensive, all-inclusive list. This will just give your kids an opportunity to look for loopholes or ways to bend the rules. That's why I called this, "For Our Safety." This is to remind my kids that all the things we require are for their safety and protection.
I only include general guidelines and things that are most important to my family or that we might have trouble with. This is just a reminder to the kids that these things are not up for debate, and are for their safety or health. You can see we have the most issues with electronics, like most families these days!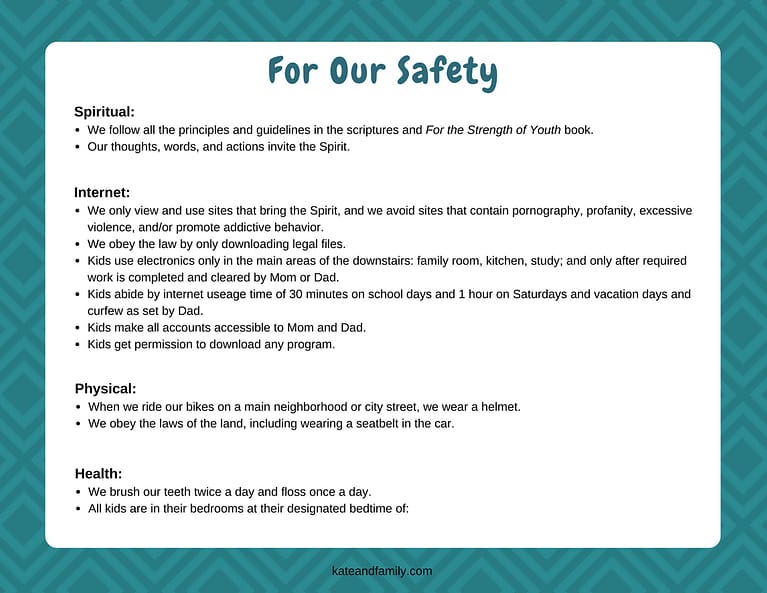 If you're wondering what For the Strength of Youth is, it's basically a simple guidebook for teens that was written by the leaders of my church, The Church of Jesus Christ of Latter-day Saints. Even if you're not Christian, and even if you don't have teens yet, you'll love the outline and content of this book, and you can use it as a guide to teach your kids the values you feel are important for your family. It covers all the important topics in simple and clear terms, including Dress and Appearance, Language, Media, and Dating. There are even videos to go along with each topic. My family has been reading from this book as our family scripture study/devotional time every night, and it's given our kids a better understanding of our family's standards.
Family Rituals are SO Important!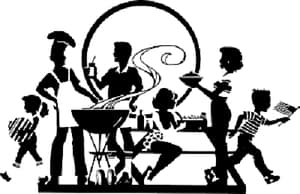 Think about the things your family does together every day, every week, every month, for every holiday. These seemingly small rituals help your child feel secure and give them a sense of belonging. They also bring your family together and help your kids to see that you value family time. And, they're a great way to sneak in teaching moments of values and beliefs you want your kids to learn!
No family is perfect and every family is busy, but if you can try to incorporate these simple rituals/routines into your family life, you'll build more unity and love.
In my family, we try to start the day with family prayer. If you're not religious, it can just be that you hug each child before they leave for school. Your whole family doesn't have to all be together. Just find a way to connect with each family member before everyone goes their separate ways.
In the evening, we have family dinner and a short evening devotional (scriptures and prayer). If one of the kids is at an activity, we try to wait for them, or have it without them. You could do family read-aloud time with some favorite classics. Or family dance time. Anything to help your family to connect before bedtime and reinforce values you're trying to teach them.
Of course, we're not perfect at doing these things every day. But we have the routines in place so that we do them more often than not.
Once a week, we have family night. For our family, it's on Monday nights. We have musical numbers (yes, my family is big into music), so the kids get to perform what they practiced the previous week. Our five-year-old always makes sure we make time for her performances. Of course, we're just happy if our 15-year-old is awake and willing to share the couch 🙂 
We also have a short lesson, game, and treat. So it doesn't last long, but it does take consistency and a little planning.
Also, we're supposed to have family meetings once a week to discuss issues (this is from Positive Discipline), and we try to do that on Sunday nights. But we haven't been very good about being consistent with that yet. No family is perfect!
One really fun weekly family ritual we have that is absolutely sacred is our Friday Night Movie. We're all so ready for it by Friday! I usually make or buy pizza, and we choose a fun movie to watch. Lately we've gotten into the Marvel series (filtered by Clearplay). It's our favorite night of the week (except, of course, Saturday Date Night for me and my husband).
For every major holiday, you probably already have things your family does to celebrate. Emphasize these family traditions that bring your family together.
In our family, every Christmas we go caroling to our friends and neighbors. Every year our kids get more excited about it (even our 15-year-old likes it!), and it unites our family.
Now that I'm writing about this, I'm thinking we should have family traditions that are more frequent. Maybe a monthly family service project. And a monthly planned family fun activity. Ok, I'll stop there before I start feeling overwhelmed.
Please comment below if you want to share some family rituals or traditions of your own!
Learning the principles of Positive Discipline are also so important in helping you create a strong, united family. Be sure to check out my Parenting section.
And remember, don't get overwhelmed by all that you're not doing. Choose just one thing that your family needs to work on the most, and focus on that. Every little improvement can make a big difference in your family!