This past fall I decided it was time for me to finish my certification to become an official Piano Marvel Instructor. Which meant that it was time for me to get serious about the SASR, Piano Marvel's incredible sight reading tool, and take on the 30-Day SASR Challenge.
Not only did I need to start the SASR Challenge, but I was also required to improve my SASR score by 100 points.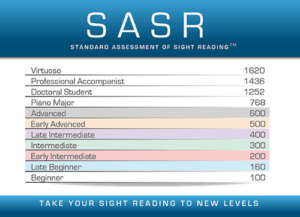 I've been blessed with a gift of sight reading. It's always been very easy for me, and I never thought I needed to (or could) improve my sight reading. In the past, I had taken the SASR occasionally just to see how I scored, and my high score was 1548 (Professional Accompanist Level).
I was a little worried I wasn't going to be able to make the instructor requirement of improving my SASR score by 100 points.
The Piano Marvel SASR Challenge Begins
October 23: I started the 30-Day Challenge. I took the SASR almost every day, not really seeing an improvement at first. In fact, my scores were below my current high score.
November 1: On the 9th day, I emailed Sean Slade (the one in charge of instructor certification) and asked if he might waive that requirement since I was at Professional Accompanist Level already.

Sean agreed to waive that requirement, and I was able to get my instructor certification completed.
But I decided to keep going on the SASR Challenge, or at least try my best to take the SASR daily (excluding Sundays) until one month was up.
November 2: What do you know, the very next day I got a new high score: 1578!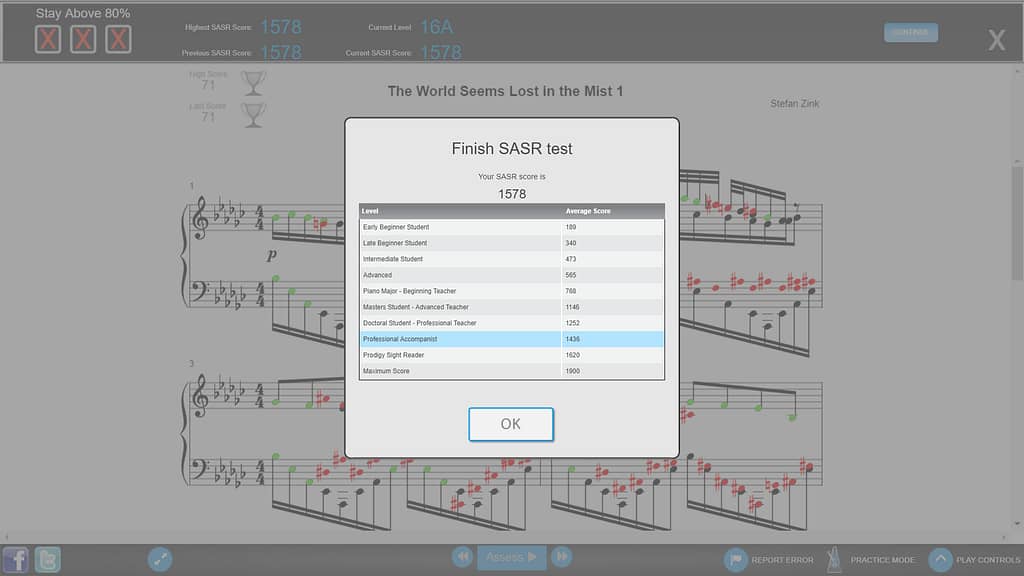 My score wobbled back and forth each day, but I could tell that it was getting easier for me to sight read. I was starting to unconsciously pick up on patterns in the music, especially based on the different composers. Pieces by Scott Joplin were simple for me because they all seemed to follow the same pattern, and when it was a piece by Bach I knew I would have to watch out for moving, independent parts. Songs by Handel had simple, straightforward rhythms.
November 7: I was so surprised to score 1666, which is Virtuoso/Prodigy Sight Reader Level!! I made the 100-point increase requirement after all!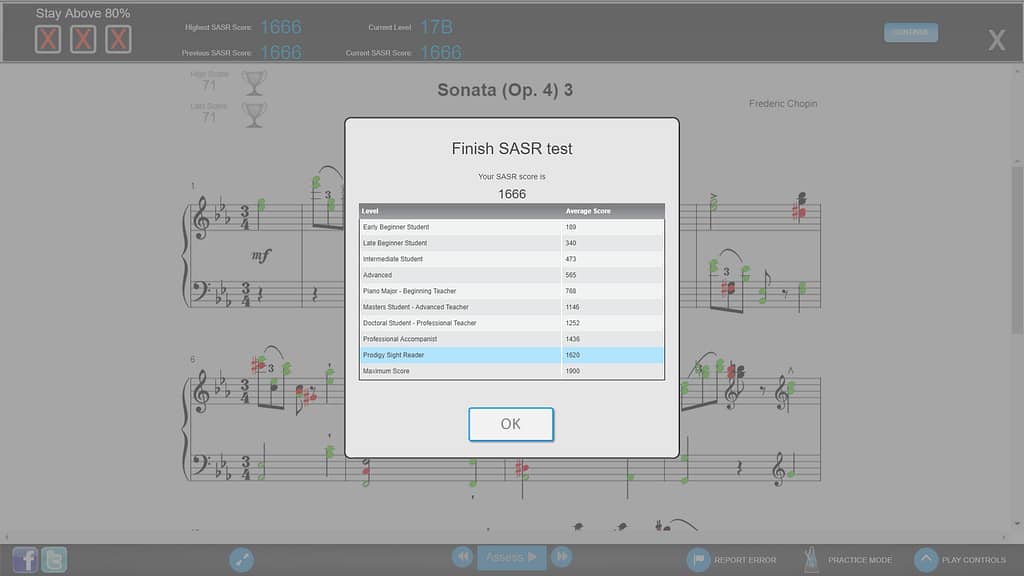 November 16: SASR score of 1635.
November 22: My last day of the SASR Challenge, with a score of 1622. Yes, I was sick of taking the SASR almost every day (it takes me at least 20 minutes to get through it), and I was happy to end on a high note.
Here's a chart of my progress after one month: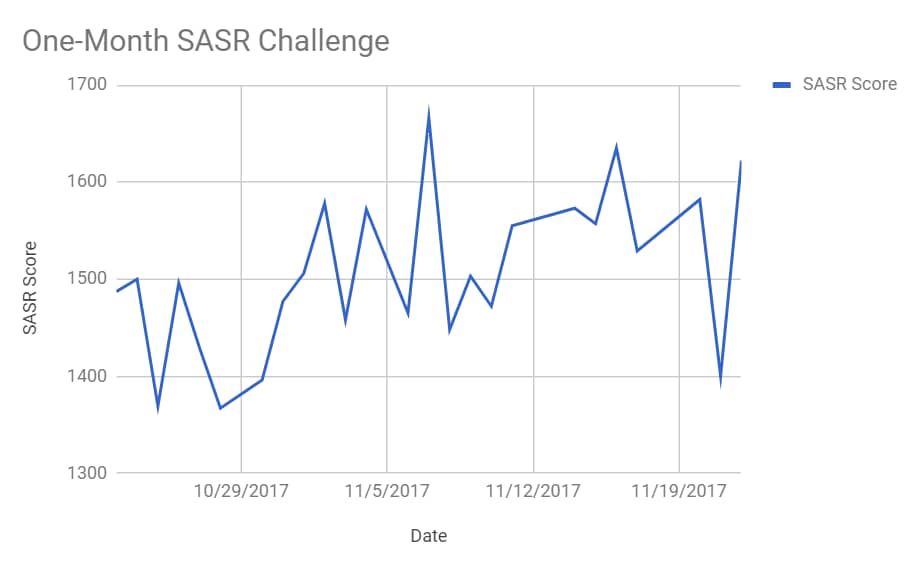 The low 1400 score on November 21st was a fluke because I was trying the SASR on my new iPad, and it took some getting used to (there's no metronome function on the iPad app). By the next day I had adjusted and was back up to the Prodigy Sight Reader Level.
Even though I didn't take the SASR every single day for 30 days, after one month of taking the SASR almost daily, I could see a noticeable improvement in my sight reading abilities.
Lesson Learned from the Piano Marvel SASR Challenge
Anyone, even advanced players, can improve their sight reading abilities by consistent, focused practice. And the SASR is a great way to track and improve your sight reading skills!
---
Give Piano Marvel a try with a free account. You'll also get access to the SASR for the first 30 days. If you choose to get a monthly premium account, receive 20% off the $15.99 monthly fee with my Piano Marvel promo code KATE. I receive a small commission if you sign up using my promo code.
Related Links