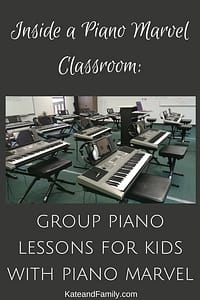 I was curious to see how kids use Piano Marvel in a group setting, so I visited a local piano classroom that uses Piano Marvel. The music teacher had been teaching group piano lessons for kids for the past two years, and she had a lot of great ideas I want to share. I've also included some ideas of my own and from the Piano Marvel studio.
Here is a suggested routine for piano teachers and parents who are interested in teaching group piano lessons with Piano Marvel.
1. Welcome & Short Theory Lesson
It's important to build a connection with the kids. Ask them if there is any news they would like to share, or something good that happened today. This can take just one minute and will help your kids be in a positive, cooperative mood.
As a group, review theory concepts and introduce new concepts before having the kids go to their pianos. Make it fun and exciting with rhymes, songs, and activities.
Here is a book with some great ideas for group piano teachers. It is divided by: Keyboard Geography, Five Finger Tune-Up Patterns, Lines and Spaces Recognition, Key Signatures, Ear Training and Rhythms, and Triads. It gives suggested levels for each activity. Each activity requires few materials and minimal preparation.
2. Warm-up Time
Now it's time to let the kids go to their assigned piano. Have a routine for the kids to follow. This was the routine in the classroom I visited:
Stool sit
Power on
Posture
Warm up
Headphones in
Log in/headphones on
Begin
The kids warmed up without headphones plugged in first, so the teacher could walk around and hear how everyone was doing with their warm-ups.
This was in a beginner (3rd grade) class. The first Ocean Waves warm-up would be C-D-E three times.
Next would be the bigger Ocean Waves, with C-D-E-F three times.
Mid C Caterpillars can be C-D-E-F-G-F-E-D-C three times (the basic 5-finger warm-up).
When the kids become more advanced, they can do the Octave C Caterpillars, or the C major scale, three times.
I also like to incorporate arm drops into beginner warm-ups: you raise your hands up to shoulder level, and then let all your energy out and drop your hands onto the piano. Do that three times. This gives the proper feeling of weight in your arms and hands so they can play more relaxed and more expressively.
And, of course, teach your kids to always pay attention to their posture and hand position. Here are some more technique pointers.
3. Practice Time with Piano Marvel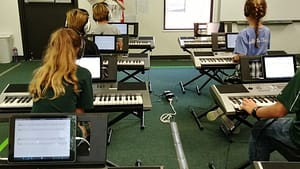 Have the kids sit at the same piano each time so their account can be saved on that device. Then they can quickly and easily log in. There could be an issue with logging in if the internet speed is slow. Make sure your home or classroom has good internet access!
Now your kids are ready to practice on Piano Marvel. They can go at their own speed and choose which songs to practice. Have them practice songs in both Method and Technique, then a challenging song in the Library of their choosing. They can search for a song by their level. If there's time, they can also do a little SASR (the Sight Reading tool). Here is an example of a beginner piano practice routine.
For each new song, the teacher taught the students to follow these steps, and she put those steps on the board:
Time/key signature
Hand position
Fingering
Line by line (right hand by itself, left hand by itself, hands together)
Practice
Add dynamics (play with feeling)
In the classroom I visited, I saw many kids working very hard to pass off songs. One boy passed off Level 1B and was so proud to share his accomplishment with me and his teacher!
While the kids are practicing, it's a great time to pull aside one child at a time and see how they're doing. Now is the time to pull up the 7-day report and see what they've been working on. You can also talk about playing with expression, discuss what they picture in their mind when they're playing that song, what they're doing well and what they could work on. They can perform their favorite song for you. It's a great time to inspire and encourage them.
Sometimes you can change it up a bit. Have a day where they pair up and play duets together. Or have the entire class play a song together, with some doing drums or other accompaniment (the fun part about having a digital keyboard with lots of instrument settings), or where they take turns playing different parts. The kids really love their keyboards, and many of their parents have bought the same Yamaha keyboard for their home.
4. Give Rewards and Encouragement.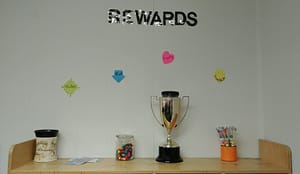 The kids will be inspired when they see other kids having success in Piano Marvel. Acknowledge when kids pass off a level, and give them fun rewards. In the Piano Marvel studio, the teacher has a puzzle out on a table in the middle of the studio. Each time a student gets a 100 on a song, they get to go to the puzzle and put a piece of the puzzle into place.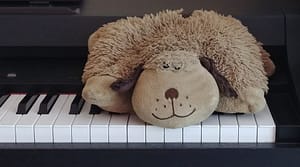 In the 3rd grade classroom, when a child passes off a sublevel (like Level 1B), he/she gets a sticker and candy from the rewards station. There's also a big basket full of stuffed animals, and the child gets to choose a stuffed animal to put on their piano while they practice. The kids love that!
5. Close Time
When it's time for practice to be over, have a well-established routine for the kids to follow if you are in a classroom setting. Here is the routine in the classroom I visited:
Headphones rest
Wipe iPad & headphones with cleaning wipe
Power off
Stand/stool in
Headphones unplugged
Sit on classroom rug
6. Performance Time & Goodbye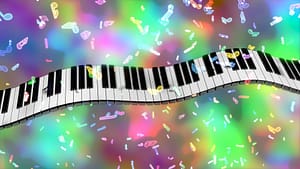 When all the kids are gathered back together, it's a great time to let the kids perform songs that they've polished. If there are a lot of volunteers, you may want to have a sign-up sheet and spread out the performances throughout the week. Make sure they know these need to be songs they've worked on and passed off, or ones they can play with the correct notes and rhythm without stopping.
In our family, we have performance time on Monday nights during our family meeting. My little ones love to perform, and it gives them motivation to get a song performance-ready. It also gives the rest of the family a chance to give encouragement and compliments. A great self-esteem booster.
After the performances, you can give a quick wrap-up of what the kids learned today. If they're required to practice at home, make sure they know what they're supposed to practice. Then it's time to say goodbye!
---
A quick note about the frequency of piano classes: In the classroom I visited, they only had piano class once a week, so the kids weren't progressing very quickly. The ideal piano classroom would meet every day and require the kids to practice at home, or have one group lesson a week and have daily practice requirements. But, any piano practice is better than none. Those kids were getting a great brain workout and having fun along the way!
---
To learn more about Piano Marvel, take a look at my Piano Marvel info page and Piano Marvel review and tour. And to sign up for a free Piano Marvel account, click here. If you choose to get a monthly premium account, receive 20% off the $15.99 monthly fee with my Piano Marvel promo code KATE.
To sign up your school or group, contact Piano Marvel at: contactus@pianomarvel.com and give them my promo code KATE. I receive a small commission if you sign up using my promo code.
---
Related Links
For Piano Teachers: