Successful Parenting with Positive Discipline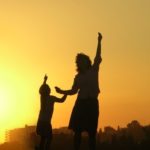 Are you tired of power struggles, fights, and tantrums? Do you want less stress and more calm in your home? And are you confused and overwhelmed by all the different parenting methods out there? Well, with the Positive Discipline method, you'll finally know how to parent successfully!
As a Certified Positive Discipline Parent Educator, I'm excited to teach you how to be a happy, positive parent, and raise capable, successful kids of strong character. The Positive Discipline parenting method has transformed my parenting, and it can do the same for yours.
Positive Discipline Foundation
Before I go into the "how" of Positive Discipline, it's very important to understand these principles. This will help you to have the mindset of a Positive Discipline Parent. Using the how-to tools without this mindset will not be as effective.
Positive Discipline Tools
Now that you understand the basic principles of Positive Discipline, I hope you're excited to learn how to implement those principles with your own kids. Here I will cover some of my favorite Positive Discipline tools.