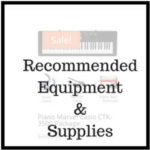 Are you wondering what Piano Marvel equipment you need to get started? You've come to the right place to find out! Follow my 4-Step Guide to make sure you have the necessary devices and cables.
Then take a look at my recommended optional supplies, including curriculum books and flashcards.
---
4-Step Guide to Choosing the Right Piano Marvel Equipment
Minimum Requirements:
PC: Windows Vista or later and 4 GB RAM memory; i-Core processor Mac: OSX 10.8 or later and 4 GB RAM memory
---
Top Recommendations on Amazon:
This is the laptop my family uses for Piano Marvel, and it works very well. The response time is very short, and it has good sound quality.
---
Now you're ready to install the
Piano Marvel app
 in Chrome or Firefox and create an account. Remember to use promo code KATE if you want 20% off a monthly premium account. I receive a small commission if you use my promo code.
If you will be using Book Mode only:
Get started in Piano Marvel using my
Quick-Start Guide
.
If you want to connect your device to a MIDI-enabled keyboard:
Move on to Step 2.
Recommendation:
iOS 10 or later
2017 Model or newer
Any version will work, but newer iPads will run Piano Marvel more smoothly. I just bought an iPad 4th Generation on eBay specifically for Piano Marvel, which is working, although it is slower than my Dell laptop and the sound isn't as good. I was worried the screen size would be too small (it's 9.7 inches), but I can easily read advanced music on it.
I should note that the iPad app is a scaled down version of the Windows app. My husband prefers to use his laptop for Piano Marvel because the iPad app doesn't have Prepare mode yet (should be available in the next month), and the iPad app's response is slower. However, Piano Marvel customer support told me that the new iPads work very well with the app and connectivity.
I do love how the iPad has a quick start-up and also sits easily on the music stand of my piano. My plan is to keep the iPad on our piano so my kids can access Piano Marvel easily. Since we use our laptop for other things and some of my kids need help logging in, getting an iPad solely for the piano has simplified things.
---
Top Sellers on Amazon:
The iPad Pro has a large screen size (12.9 inches). This is a good option for a piano studio, where the piano will be used frequently for Piano Marvel practice and lessons.
---
This iPad is the 2017 model and has a really high rating. For most pianists, this screen size (9.7 inches) will work just fine with Piano Marvel.
---
Now you're ready to install the
Piano Marvel app
 (commission link) and create an account. Use promo code KATE if you want 20% off a monthly premium account.
If you will be using Book Mode only:
Get started in Piano Marvel using my
Quick-Start Guide
.
If you want to connect your device to a MIDI-enabled keyboard:
Move on to Step 2.
Minimum Requirements:
At least 61 keys
MIDI or USB connection
Casio CTK-3500: 61-Key Touch Sensitive Portable Keyboard
Price: $
Piano Level: Beginner
This keyboard has 61 full-size, touch-sensitive keys, so it's a good starter keyboard (a regular piano has 88 keys). Touch-sensitive means the keys allow you to play with dynamics, loud or soft. Being able to play with dynamics, playing with expression, is super important because it makes playing the piano so much more enjoyable. The keyboard can be powered by AA batteries or using the included AC adapter. If you're not sure you/your child will stick with piano for more than a year and don't want to invest a lot of money into a piano, this is a good choice for you. You will need to get a
keyboard stand
 (or use a table), and a
bench
or chair.
---
Piano Marvel Casio CTK-3500 Package:includes keyboard, cables & 1 year of Piano Marvel Premium Membership
Price: $249.99
Piano Level: Beginner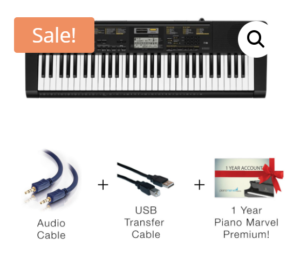 This is the same keyboard as above, but is sold by Piano Marvel as a Piano Marvel equipment package. So you get the beginner keyboard, necessary cables, and 1-Year Premium membership. This is the easiest way to get started with Piano Marvel.
Note: I receive a small commission if you use my distributor link.
---
Yamaha Digital Pianos:
Yamaha is widely known for its high-quality instruments. My family practices on a Yamaha digital piano we've had for over 17 years, so I can attest to its reliability and quality. Here are some of the top Yamaha digital pianos on Amazon. Choose one that fits your budget and desired options.
Yamaha P45:  Digital Piano Deluxe Bundle with Furniture Stand and Bench
Price: $$
Piano Level: Beginner/Intermediate
This is the most affordable Yamaha keyboard in the P-Series. It has the full 88 keys that are weighted using Yamaha's GHS (Graded Hammer Standard) weighted action. GHS uses a heavier touch on the low notes and lighter touch on the high notes, just like an acoustic piano. The P45 uses 
Advanced Wave Memory Stereo Sampling to recreate natural instrument sound. It has 64-note polypony (that's how many notes can be played or held at a time).
---
Yamaha P115: Digital Piano Bundle with Bench, Stand, and Sustain Pedal, Black
Price: $$$
Piano Level: Beginner/Intermediate
This keyboard has 88 keys and also uses Yamaha's GHS weighted action. The P-115 uses the Pure CF Sound Engine, which is the sound of Yamaha's 9' concert grand piano. It allows up to 192 notes of polyphony. In this particular package, a sustain pedal is included, which you'll need starting in Piano Marvel Level 3. The power adapter, keyboard stand, and bench are also included.
---
Yamaha DGX-660: 88-Key Weighted Action Digital Grand Piano with Matching Stand and Bench
Price: $$$$
Piano Level: Beginner/Intermediate
This is also a full-sized keyboard and uses Graded Hammer Standard (GHS) weighted action. It also uses the Pure CF Sound Engine, and has 192 note-polyphony. There's a built-in USB Audio Recorder and a small LCD display that can show notation for any MIDI song that's on the DGX-660, including the songs that you record. There are hundreds of different instrument voices and options, to allow creativity and excitement when you're playing the piano. A sturdy bench is included, along with a keyboard stand. You can buy a 3-pedal unit separately. Take a look at the incredible features in the Yamaha DGX-660 video overview.
---
Yamaha YDP163B: Arius Series Console Digital Piano with Bench, Black Walnut
Price: $$$$$
Piano Level: Beginner/Intermediate
The YDP-163 is the only digital piano in the Arius series that has Graded Hammer 3 (GH3) keyboard action, which is better than GHS. Read
this Yamaha webpage
for info about the different levels of Yamaha hammer action and corresponding model numbers. With the GH3, there are three sensors so that it feels more like a grand piano and you can repeat notes more easily. The keys are made of synthetic ivory. The YDP-163 uses the Pure CF Sound Engine with a more powerful 20W stereo amplifier, and it has 192 note-polyphony. There are three pedals and a sturdy bench to match the beautiful console. Yamaha also has a great
overview video of the YDP-163
.
If you want a digital piano for an advanced player, you will have to go beyond the Arius and look at the Clavinova. My husband and I bought a used Clavinova off eBay more than 17 years ago, and it's still working today! That's the piano we use with Piano Marvel. I wouldn't advise buying from eBay (we got lucky), but you can buy a used Clavinova from Craigslist or buy a new one at a local music shop. You definitely want to try it out before you buy it.
A note about using a digital piano. No matter how hard they try, playing on a digital piano will never be exactly like playing on an acoustic. It might sound very similar or even better (depending on how good/bad your acoustic piano is), but the feel of it just isn't the same because one is electric-based and the other is string-based. A beginner or even an intermediate player can progress well using a digital piano, but an advanced player should be using an acoustic piano.
If you have an acoustic piano with no MIDI capabilities, I would recommend that you use Book Mode in Piano Marvel for now.
In early 2018 there will be a low-cost, non-invasive option to add MIDI capabilities to an acoustic piano, called PNOscan OT (Over the Top). It's similar to PNOscan but hopefully much cheaper and easier to install (just set it on top of your keyboard).
QRS will be showcasing PNOscan OT at the NAMM show in January. I'm SO excited that soon my family can use Piano Marvel on our grand piano! I'll keep you updated on my Features & Updates page.
It's important to get a high-quality cable. Otherwise, your connection will be lost frequently and using Piano Marvel will become frustrating (I know this from experience!). For Apple products, make sure you use Apple brand cables.
For Laptop Users: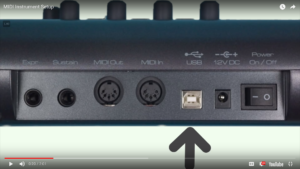 ---
Choose: USB A/B cable
(also called a printer cable; you might already have an extra one in your cable stash)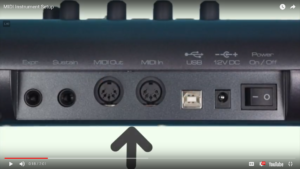 ---
Choose: USB to MIDI cable
This is the high-quality MIDI cable recommended by Piano Marvel.
For iPad Users: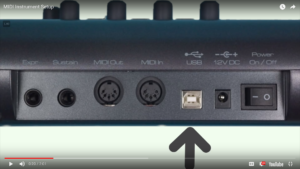 ---
Choose: USB A/B cable + Lightning to USB Adapter
&nbsp&nbsp&nbsp&nbsp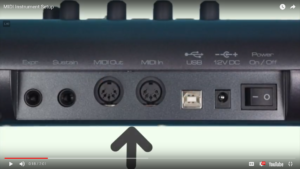 ---
Option 1: USB to MIDI for Mac, PC and iOS, Lightning Version


Connections are provided for both an iPad (4th generation and newer) and a computer (Mac/PC).
---
Option 2: USB to MIDI + Lightning To USB Camera Adapter
(if you want to be able to charge your iPad while using Piano Marvel)
&nbsp&nbsp&nbsp&nbsp
If you're still not sure which cable you need, check your owner's manual or email Piano Marvel customer support at: contactus@pianomarvel.com. This video made by the Piano Marvel tech expert is also extremely helpful.
Recommendation:

5 MBPS or higher internet speed
Now that you have your Piano Marvel equipment, you're ready to get started in Piano Marvel using my Quick-Start Guide!
---
Optional Supplies & Resources
If you're using the Piano Marvel curriculum, having printed copies of the Piano Marvel books is incredibly important. You will be able to play your songs on an acoustic piano, and you will also get good theory practice by using the printed books. I will also give you recommendations of other supplies and resources to use with Piano Marvel.
Method Books
First of all, print out the Method PDF Book or buy a copy (I receive a small commission if you use the links provided). In the "Method" section, there's a small link above the song list that says, "Method Book 1 (PDF)." If you click on that, a PDF version of the book will open up and you can print your favorite songs from there. It is 77 pages long, so you may not want to print the entire book! My preference is to pay the ~$15 and have the book shipped.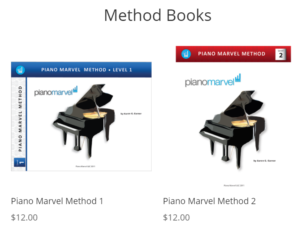 The Method pieces are in the book so you can also play the songs on your regular acoustic piano–definitely make sure you do that often.  Playing on a keyboard or even a good digital piano just can't be the same as playing on a real piano.  Also, there are duet parts included in every song so if there's someone else in the house that can play the piano, you'll have a fun time playing the songs together ("Peter, Peter" is a great one to play with someone else!). The book also has little tidbits of instruction to teach you new concepts, just like a regular piano method book. In the beginning, it teaches you about posture, correct technique, and other important concepts.
August 2017 Piano Marvel Update:
The PDF versions of the Method books have been revised to include Theory, such as writing in the names of the notes for the songs. The new versions are now for sale in the Piano Marvel store so you can take advantage of the important Theory components.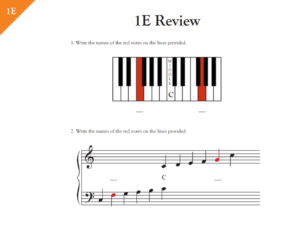 Technique Books
Not only can you print out the Method books, but you can print out the Technique books as well. However, I feel that printing out the Technique book for Level 1 is unnecessary. It's much more exciting playing these exercises on Piano Marvel. No duets are included, and once you pass the songs off in Piano Marvel, you usually don't need to review them. Later on when you start learning scales (beginning in Level 3), it will be helpful to have printable copies of those.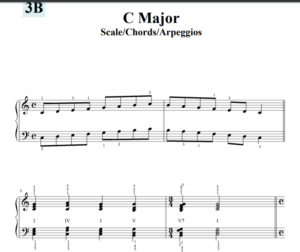 Music Flashcards
I've also created Piano Marvel flashcards on Quizlet, a free online program/app that helps you learn and practice flashcards of basic music terms in a fun, interactive format. You can learn the terms in the "Flashcards" section and then see how quickly you can match the terms with their definitions in the "Match" section. The other sections don't work well with these flashcards, so I would just stick with "Flashcards" and "Match." I divided the terms by Piano Marvel level and sublevel. Here are the Piano Marvel Level 1 flashcards. And here are the Piano Marvel Level 2 flashcards.
If you're not using the Piano Marvel curriculum, consider getting a basic set of flashcards so you can learn important music terminology and note names.
You can also use apps such as MusicTutor Sight Read (android) to learn the names of the notes and key signatures. Notes! Learn to Read Music is the only decent iOs app I found that allows you to select which notes you want to drill. Please comment below if you know of any other good note apps.
Happy Piano Marvel playing!