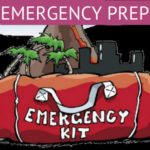 The ready-made 4-Person Emergency Survival Kits available on Amazon make it EASY for your family to be prepared for an emergency.
These are kits I recommend based on extensive product research and my own experiences, and on FEMA's recommendations for a Basic Disaster Supplies Kit or Emergency Survival Kit. With all the wildfires, hurricanes, and floods in recent months, NOW is the time to get prepared.
It's easy to get overwhelmed by all the choices out there. I've made it as simple as possible for you to compare the top-selling kits on Amazon that are geared towards families, so you can decide which one is best for your family's situation.
Kate's #1 Choice:

Pros:
Includes all FEMA recommended emergency items, minus local maps, cell phone & batteries

Includes many, many extras, such as gas/water shut-off wrench, water purification tablets, waterproof matches, emergency stove, and hand-crank flashlight/radio

Cost-effective bundle for four people

Everything fits in one duffel bag
Cons:
Only includes four 2400-calorie bars; you may want to buy two more 3600-calorie food bars (that would equal 4200 calories per person, which would be plenty for 72 hours)

Weighs 45 pounds

For four people; you will need to buy more supplies for additional people (see the bottom of this post for directions on what additional supplies to include-it's very easy & low-cost)
This is the perfect emergency survival kit (hence, the name!) for every family. The kit includes all emergency items needed for four people to survive for 72 hours. I love the extra supplies that are included, especially the water purification tablets. This kit has many more items than competitors' kits. It is perfect for an emergency evacuation or to shelter-in-place.
What If I Have Less Than 4 People To Prepare For?
Even if you only have two or three people in your family, this would still be the perfect kit; it would just last you more than 72 hours or allow you to help a neighbor in need. I couldn't find a 2-person kit that had all the supplies that this kit has. If this kit isn't in your budget, the Urban Survival Bug Out Bag is my top recommendation for a 2-person kit. You can take a look at my 2-Person Kit recommendations.
4-Person Survival Kit Comparison
Here is a comparison of the top 4-Person Survival/Emergency Kits on Amazon.
Ready America 70385 Deluxe Emergency Kit
4 Person Premium Survival Kit
4 Person Perfect Survival Kit Deluxe
Kit Weight (2 Person)
21.8 lbs
18.75 lbs
45 lbs
Weather Protection
4 Survival Blankets
4 Emergency Ponchos
4 Emergency Blankets
4 Emergency Ponchos
4 24-Hour Body Warmers
4 Emergency Survival Sleeping Bags
4 Emergency Ponchos
4 12-Hour Body Warmers
2 2-Person Tube Tents with Rope

Food & Water
4 2400-cal Food Bars
4 1-L Boxes of Water
4 2400-cal Food Bars
24 Water Pouches
4 2400-cal Food Bars
48 Water Pouches
1 2.5-Gallon Water Bag
50 Water Purification Tablets
First Aid
1 107-Piece First Aid Kit
1 85-Piece First Aid Kit
4 Personal First Aid Kits plus Supplemental Kit
Hygiene & Sanitation
12 Pre-Moistened Towelettes
4 Pocket Tissue Packs
3 Bio-Hazard Bags
4 N95 Masks
4 Safety Goggles
8 Nitrile Gloves
8 Medical Grade Dust Masks
4 Toothbrushes
4 Toothpastes
36 BZK Wipes
4 Soap Bars
8 Pocket Tissue Packs
2 Infectious Waste Bags
4 N95 Masks
Misc. Tools
4 12-Hour Light Sticks
1 Emergency Whistle
1 Flashlight/Radio/Siren/Cell Phone Charger
1 Multi-Function Pocket Tool
1 Pair of Leather Gloves
1 Duct Tape
4 12-Hour Glow Sticks
1 5-in-1 Emergency Whistle
1 LED Flashlight-Lasts 400 Hours
1 Pocket Knife
4 12-Hour Light Sticks
1 5-in-1 Emergency Whistle (not listed, but shown in picture)
2 Rechargeable Squeeze Flashlights
1 Dynamo Radio Flashlight w/ Micro USB & USB
1 Box of 40 Waterproof Matches
1 14-Function Knife
1 Pair of Working Gloves
50 Ft of Nylon Rope
1 Deck of Playing Cards
5 Emergency Candles
1 Gas & Water Shut-off Wrench
1 11-Function Mini Can-Opener Tool
1 Emergency Stove with Fuel Tablets
Misc. Emergency
1 Backpack
1 Premium Sport Backpack
1 Deluxe Backpack
1 Duffel Bag
Kate's Budget Choice:
If you're on a tight budget, the Ready America Deluxe Emergency Kit is a good choice. You can add on these items to make the kit more complete:
---
Wait, You're Not Done Yet! Important Add-Ons to Your Survival Kit
To complete your emergency prep (based on FEMA's Additional Emergency Supplies List), you will want to add 3 days' worth of:
Water: one gallon of water per person per day (4 people x 3 days = 12 gallons total needed)

Buy 2 of these Water Containers or 4 cases of water bottles
You may need to store the water in a separate place from your emergency kit in case of leakage, such as in your garage or shed

Important Family Documents in a Waterproof Container
Pet Supplies
Medication
Glasses & Contact Lens Solution
Cash or Traveler's Checks
Change of Clothing
Local Maps (Something I wish I had when we evacuated for Hurricane Rita!)
Plastic Sheeting & Duct Tape to shelter-in-place

You may need to create a make-shift shelter-in-place room to protect your family from contaminants and chemical agents in the air
You want to buy plastic sheeting that has a thickness of 4 mil or greater

Mess Kits/Paper Goods & Utensils, depending on the food you're storing
Paper & Pencil
Kids' Games & Activities
What If I Have More Than 4 People in My Family?
If you have more than four people in your family, just include the following for each additional person (I've provided links to highly-rated, low-cost items):
Emergency Sleeping Bag (this one actually fits 2 people)
Food Bar (3600-calorie)
N95 Mask (this is a very low-priced 20-pack)

If you end up having disaster cleanup, you will need lots of these masks

Case of Water (a 24-water bottle case is about 3 gallons)

I'm not even going to give you a link to Amazon's water, it's way overpriced; just grab some the next time you go to the grocery store
Or, buy this 7-gallon Water Jug, which will be enough for 2 people

Toothbrush
Toilet Paper Roll (1 or 2 for the whole family)
Why I Don't Recommend Kits With Dehydrated Food
Food bars are what I recommend for emergency food. Chances are, if there's an emergency you would rather have something quick and easy to eat, and not use precious water storage or have to prepare food. That's why I don't recommend kits with dehydrated food. Food bars are also very easy to store, contain all the calories you need, are low-cost, and last for five years.
You can always store other nonperishable food for emergencies, like canned pasta or chili. But for a grab-and-go evacuation bag, I would go with food bars.
Prepare for the Worst, and Hope for the Best
Your family may never have to use an emergency kit. But with the ever-increasing natural disasters and commotion in the world, you need to be prepared. Do all you can NOW to keep your family safe.
---