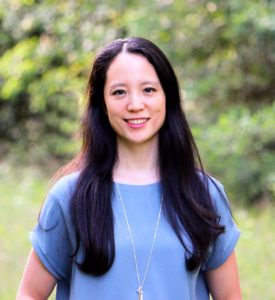 I'm a busy mom of 5 energetic kids, ages 7 to 17. I'm also a Family Life Educator, Certified Positive Discipline Parent Educator, and Certified ACPI Parenting Coach.
My husband and I struggled for so many years, trying different methods and ways of disciplining our kids. Finally, I found the Positive Discipline method by Dr. Jane Nelsen, and it totally transformed my family.  I want to share what I've learned with you and save you from the grief that we've experienced! No matter what you or your kids are struggling with, you will get through it, and you can have success, peace, and even joy, in parenting and family life.
In my study of parenting, I also discovered the power of mindfulness. Developing awareness of the present moment, your thoughts, feelings, and what is going on around you, really can bring calm and peace into your life. I'm certified as a Mindfulness Practitioner and Add Heart Facilitator, and I am authorized to teach HeartMath, an effective mindfulness practice, in my coaching and classes.
Lastly, I'm a Certified Piano Marvel Instructor. I believe strongly in the power of music and its unique ability to strengthen our brain and heart, strengthen our character, calm our emotions, and bring us closer to God. Piano Marvel, an amazing piano learning app, is the main tool I use to teach piano and bring the power of music into our home. I started teaching piano in 1994 and started teaching with Piano Marvel in 2010. I also play the organ for my congregation at The Church of Jesus Christ of Latter-day Saints and accompany our area-wide church choir. Even though I teach piano and recommend Piano Marvel to others, I am not accepting new students so I can focus on Family Life Coaching and Education.
I am currently pursuing a master's degree in Family Science and certification as a Family Life Educator at Concordia University-St. Paul.
You can book a phone or online session with me here or on TaskHuman. I look forward to empowering you and your family in your wellness goals!