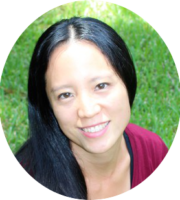 Do you want less stress and more PEACE in your home? Are you wondering how you can be a successful parent? My parenting classes and private coaching can help you!
I'm Kate, and I'm a Positive Discipline Parent Educator, ACPI Certified Parenting Coach, Mindfulness Practitioner, and Add Heart Facilitator. My job is to help you make your life as a parent calmer and happier, and to give you the tools and support you need to help your kids succeed!
My husband and I have 5 energetic kids, ages 7 to 17. We've had adventures with anxiety, depression, learning disabilities, chronic illness, giftedness, strong-willed kids, and family chaos in general! Parenting is one of the toughest jobs there is, but it can also be one of the most rewarding. With my help, you can achieve success in your important role as a parent.
The parenting tools that I teach can help promote healthy brain development and increase emotional intelligence, so you can give your child a solid foundation for their future.
"I would definitely recommend this class to anyone!"
–Nancy A, Solving the Mystery of Parenting Teens Participant
Interested in hosting a class in your home or organization? Email me at kate@kateandfamily.com or call me at (832) 458-1646 for more information. Hosts receive FREE registration!
15-Minute Consultation: FREE. Contact me today!
Individual / Couple Session (60 minutes): $40. Depending on your needs, I will teach and practice parenting skills with you, help you through your parenting issues, and support you through your parenting transformation as you set specific and achievable goals.
6-Week Private Course: $240. A private version of the Positive Discipline courses (see info above). Includes 6 one-hour sessions and Positive Discipline book. There is no additional cost for your partner.
4-Week Private Course: $160. The 6-week courses can be condensed into 4 weeks if you are limited in time and money. We cover the material more quickly and omit some of the exercises, but you will still have a good understanding of the most important principles and tools. Includes 4 one-hour sessions and Positive Discipline book.
All sessions are via Zoom, phone, or in your home, if you are in The Woodlands, Texas area. To use Zoom, I will email you a link and you can easily access our private webinar room. My current availability is M-F 9 am to 3 pm. Call me at (832) 458-1646 to schedule.

"This course turned my interactions with my kids totally around and g

ave me a new perspective on parenting positively, and empowering my children to become their own people. Can not recommend Kate enough!"
-Kira R., Parenting Preschoolers coaching client